Prof. Dr. Sebastian Barsch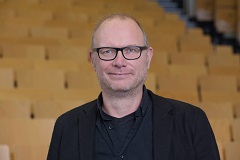 History Education
Visitor address:
Innere Kanalstraße 15 (Triforum)
50823 Köln
Raum: Triforum, R. 4.09
Postal address:
Historisches Institut
Albertus-Magnus-Platz
50923 Köln
Office hours
During the semester break: Please register in advance by e-mail.
Examination license for
Bachelor
Master
Staatsexamen
Promotion
Recent Publications
Hübner, A./ Nitsche, M./ Barsch, S. (2023): Diffundierende Zeit(en). Das Anthropozän als Herausforderung für das historische Zeitverstehen. Erscheint in: Zeitschrift für Geschichtsdidaktik 22 (2023), 84–99.
Barsch, S./ Hübner, A. (2023): Concepts of Time in Science Education and History Didactics: Towards an Interdisciplinary Approach to Environmental History. In: Fink, N./ Furrer, M./ Gautschi, P. (Hrsg.): Why History Education? Frankfurt/M., 311–322.
Barsch, S./Leinung, S. (Hg., 2023): erinnern_zerstören_gestalten. Denkmäler im interdisziplinären Diskurs.
Barsch, S./ Nitzschke, B. (2023): Die Berliner Mauer. Erinnerungskultur im Sonderpädagogischen Schwerpunkt Geistige Entwicklung. In: Lernen konkret 2/2023, 30–33.
Barsch, S. (2023): Diversitätssensibler Geschichtsunterricht. In: Fenn, M./ Zülsdorf-Kersting, M. (Hg.): Geschichtsdidaktik. Praxishandbuch für den Geschichtsunterricht. Berlin.
Barsch, S./ Lienau, A. (2022): Fachliche Reflexionen im Geschichtsstudium durch Portfolioarbeit fördern? In: Die Materialwerkstatt. Zeitschrift für Konzepte und Arbeitsmaterialien für Lehrer*innenbildung und Unterricht 4 (2022) 3, 28–39. Available online.
Barsch, S./ Bösl, E./ Lingelbach, G./ Rössel, R. (Hg.): Disability History. Zeithistorische Forschungen/ Studies in Contemporary History, Online-Ausgabe, 22 (2022), H. 2, https://zeithistorische-forschungen.de/2-2022.
A complete overview of the publications can be found here.
Areas of expertise
Inclusive history education
Historical learning and material culture
Professionalization of history teacher
Disability History
Menschen mit Behinderung in der DDR (BMBF)
Menschen mit geistigen Behinderungen als Akteure ihrer Geschichte: Teilhabeorientierte Praktiken einer Public Disability History (DFG)
Förderung sprachdiagnostischer Kompetenzen in der diversitätssensiblen Lehrer*innenbildung (Stifterverband, mit Prof. Dr. Inger Petersen)
Vom Anthropozän erzählen – historische und narrative Kompetenzen in der Nachhaltigkeitsbildung (Initialförderung der Universität zu Köln) Mit Prof. Dr. Roman Bartosch (Didaktik: Literaturen und Kulturen der Anglophonen Welt) und Prof. Dr. Wiebke Dannecker (Didaktik der deutschen Literatu
LETHE: (e-)Learning the invisible history of Europe through material culture (Erasmus+)
Supervision of doctoral projects
Supervision of doctoral projects: Overview